Dit evenement is voorbij.
Utrecht JUG meetup met Billy Korando
14/05/2019 @ 17:30

-

21:30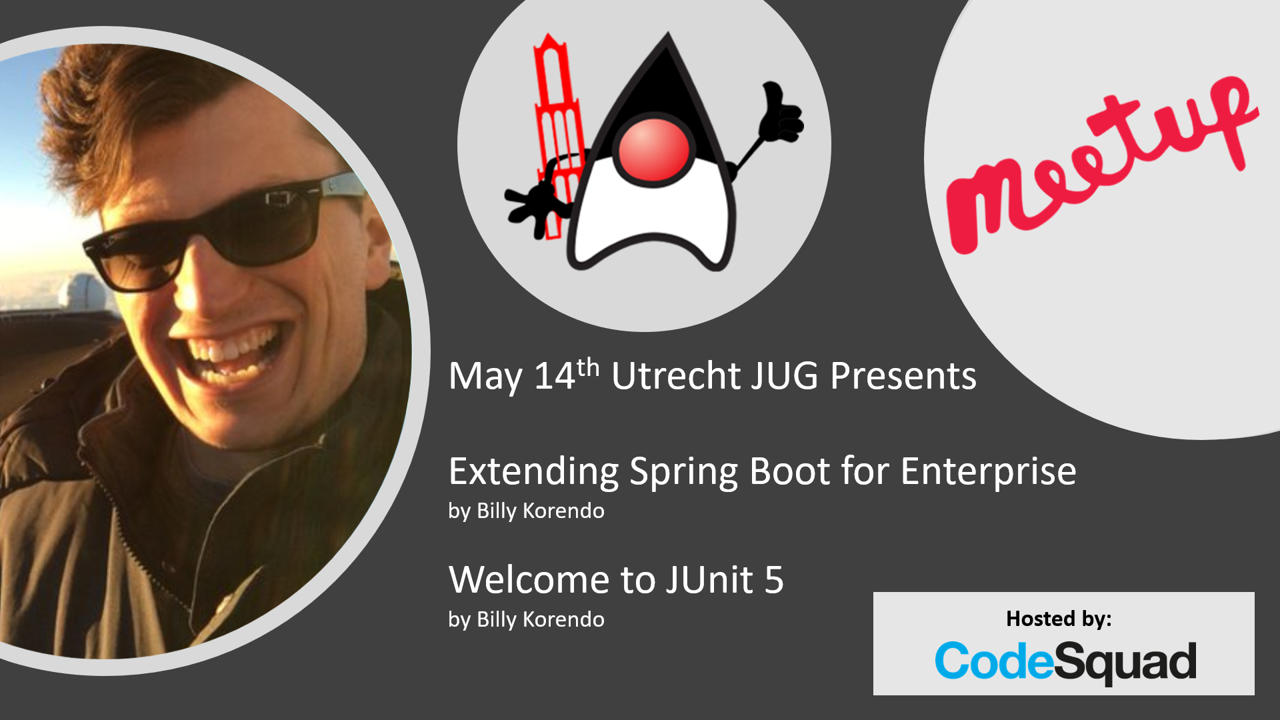 Aanmelden kan via Meetup.com
========
Agenda
17:30 Doors open
18:00 Buffet
19:00 Extending Spring Boot for Enterprise
20.00 Break
20:15 Welcome to JUnit 5
21:15 Drinks
========
Giveaways
1 JetBrains License
1 free ticket for GOTO Amsterdam conference
========
About the talks
Extending Spring Boot for Enterprise
Spring Boot has been an incredibly successful at reducing the time and complexity of spinning up new projects. However enterprise demands often cause Spring Boot projects to become bloated, out of date, and have inconsistent implementations, leading to them being difficult to maintain both for the teams responsible for a project and from an enterprise level of ensuring projects properly implement features like security, logging, database connectivity, and other common concerns.
In this presentation we will look at some of the underlying philosophies of Spring Boot and see at how to apply them to the enterprise. Specific topics include creating customs starter libraries, BOMs, and easing project initialization steps all with the goal of reducing developer toil and frustration while ensuring consistent behavior across large enterprises but not blocking experimentation. If your organization has been struggling with bloated poms, projects full of dead code, and long pipelines from project conception to deployment to production this is a presentation you will definitely want to check out.
Welcome to JUnit 5
JUnit 5 has been out for a year, so what is the big fuss and why should I take the time to update my existing automated tests to use JUnit 5? In this presentation we will look at many of the new features that have been added in JUnit 5 and not only how they make automated testing easier, but allow developers to write tests in ways that were difficult or impossible to do before. If you have been wondering why you should make the switch from JUnit 4 to JUnit 5 you will definitely want to check out this presentation.
About the speaker
Billy is a developer advocate with IBM and has over a decade of experience. Billy is passionate about finding ways to reduce mental capacity waste from tedious work; such as project initiation, deployment, testing and validation, and so on through automation and good management practices. Outside of work Billy enjoys traveling, playing kickball, and having his heartbroken by cheering on the Kansas City Chiefs.